---
HOW TO USE THE AIRLINE AIR FREIGHT TABLES
These tables are given so that you may approximate that cost of shipping items from Bali Indonesia Denpasar International Airport to major Airports in the United States.
To use these tables first pick the appropriate page form the list below. Note these airports are listed in alphabetical order by City name.
Once you have chosen a page look for your given city name. If the city that you are looking for is not listed then you may want to look for other cities in your area. If you are unable to find a city in your area or need the pricing for a specific airport please contact us using our direct contact form.
Each city has its own row in the tables that gives rates according to weight in kilograms.
EXAMPLE TABLE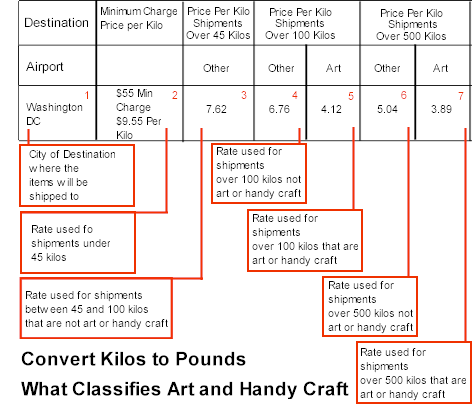 ---
If the destination that you need delivery to has a discounted rate in the art column you may have delivery made at this rate only if the fallowing applies. Items must fit into Customs category 9750 of the IATA Specific Commodity Description System. The category 9750 covers almost all the items that are found on the art-export.com site.
The Fallowing Items are in this description:
Bamboo Articles, Chinaware, Costume Jewelry, Decorations, Drawn work, Earthenware, Embroideries, Engravings, Etchings, Fabrics, Floor Coverings, Forks, Furniture, Glass, Glassware, Handbags, Hides, Household Goods, Lace, Leather, Leather Goods, Gold, Silver, Platinum, Bars, Castings, Needlework, Oils, Ornaments, Paintings, Paper, Plastic, Pottery, Printed Materials, Purses, Rattan, Reed Articles, Resins, Rubber Products, Sea Shells, Skins, Soap, Stationary, Stones, Tape Recordings, Textiles, Textile Articles, Thread, Tiles, Toys, Wallets, Waxes, Wearing Apparel, Wire, Yarn.
---
1. If you wanted art-export to ship your goods to the International airport in Washington DC you would use this row to figure your shipping rate.
Air Freight Tables
---
2. If you where to send goods that weigh between 1 and 45 kilos this is the approximate rate that would be used to calculate your shipping.
example 1
Shipment weight 10 kilos from Denpasar Indonesia to Washington DC
10 kilos multiplied by $9.55 per kilo = $99.55 US Dollars
example 2
Shipment weight 3 kilos from Denpasar Indonesia to Washington DC
3 kilos multiplied by $9.55 per kilo = $28.65 US Dollars However this shipment is under the minimum charge so you would need to pay $55 US Dollars.
Air Freight Tables
---
3. If you where to send goods that weigh between 45 and 100 kilos this is the approximate rate that would be used to calculate your shipping.
example 1
Shipment weight 60 kilos from Denpasar Indonesia to Washington DC
60 kilos multiplied by $7.62 per kilo = $457.20 US Dollars
Air Freight Tables
---

4. If you where to send goods that are not art or handy craft and weighed between 100 and 500 kilos this is the approximate rate that would be used to calculate your shipping.
example 1
Shipment weight 150 kilos from Denpasar Indonesia to Washington DC
150 kilos multiplied by $6.76 per kilo = $1,014 US Dollars
Air Freight Tables
---
5. If you where to send goods that are art or handy craft and weighed between 100 and 500 kilos this is the approximate rate that would be used to calculate your shipping.
example 1
Shipment weight 150 kilos from Denpasar Indonesia to Washington DC
150 kilos multiplied by $4.12 per kilo = $618 US Dollars
Air Freight Tables
---
6. If you where to send goods that are not art or handy craft and weighed more than 500 kilos this is the approximate rate that would be used to calculate your shipping.
example 1
Shipment weight 600 kilos from Denpasar Indonesia to Washington DC
600 kilos multiplied by $5.04 per kilo = $3,024 US Dollars
Air Freight Tables
---
7. If you where to send goods that are art or handy craft and weighed more than 500 kilos this is the approximate rate that would be used to calculate your shipping.
example 1
Shipment weight 600 kilos from Denpasar Indonesia to Washington DC
600 kilos multiplied by $3.89 per kilo = $2,334 US Dollars
Air Freight Tables
---
SHIPPING ORDER HOME PAGE MAIN INDEX CONTACT
Art Export Exporter of art Bali Global Pasti Enak Cacao Beans Nusantara Hawaii Gourmet Sauces Menu Covers